Results of puppies from litter A

ANNIE MONEGAN
Date
Town
State
Show
Class
Valuation
Judge
State
25.11.2006
Timisoara
RO
national - Couple DKMT
puppy
very promising 1
Necic Gorica
CZ
1st place Best in show Puppy
Marius Ilief
RO
26.11.2006
Timisoara
RO
international
puppy
very promising 1
Netkovici Velimir
07.04.2007
Szilvasvarad
HU
international - CRUFT
young
Exc. 2
Lokodi Csaba Zsolt
RO
16.06.2007
Sibiu
RO
international
young
Romanian prime junior, CACIB, BOB, Best female
Kary Jarvinen
FIN
17.06.2007
Sibiu
RO
international
young
Exc.1, Romanian prime junior, CACIB, Romanina Junior Champion
Milivoi Urosevici
SCG
02.06.2007
Lugos
RO
national
young
Exc.1, Romanian prime junior, CAC, BOB
Bogdan Emeric
RO
14.07.2007
Oradea
RO
international
interm.
Exc.1, CAC, CACIB, BOB
Paroci Pal
SCG
14.07.2007
Satu Mare
RO
international
open
Exc.1, CAC , res. CACIB
Szabo Sandor
HU
06.03.2010
C.Budejovice
CZ
club
open
Exc.1, CC , CAC
Auerbach Alena
CZ
ALLY MONEGAN

| | | | | | | | |
| --- | --- | --- | --- | --- | --- | --- | --- |
| Date | Town | State | Show | Class | Valuation | Judge | State |
| 18.11.2006 | Praha | CZ | international | puppy | very promising | Dolejsova Olga | CZ |
| 21.04.2007 | Ceske Budejovice | CZ | international | young | Exc.1, CAJC | Kliment Zdenek | CZ |
| 28.09.2007 | Tulln | A | international | interm. | Exc.2, res. CAC | Adnrás Korozs | HU |
| 26.04.2008 | Ceské Budejovice | CZ | international | open | Exc. | Tomas Philip | CZ |
| 15.11.2008 | Praha | CZ | international | open | Exc.2, res. CAC | A. Letackova | CZ |
| 07.03.2009 | C. Budejovice | CZ | club | open | Exc.1, CC, CAC | Svajdova B. | CZ |
| 24.10.2009 | C. Budejovice | CZ | international | open | Exc.2, res.CAC, res. CACB | Dolejsova O. | CZ |
| 07.11.2009 | Praha | CZ | international | open | Exc.2, res. CAC | Kubala Jar. | SK |
| 05.12.2009 | Wels | A | international | open | Exc.2, res.CACA, res.CACIB | Korosz Andras | H |
| 06.12.2009 | Wels | A | international | open | Exc.1, CACA, CACIB | Jungblut W. | D |
ARGO MONEGAN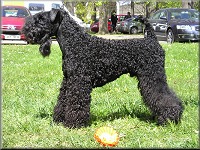 | | | | | | | | |
| --- | --- | --- | --- | --- | --- | --- | --- |
| Date | Town | State | Show | Class | Valuation | Judge | State |
| 18.11.2006 | Praha | CZ | international | puppy | very promising | Dolejsova Olga | CZ |
| 21.04.2007 | Ceske Budejovice | CZ | international | young | Exc.1, CAJC | Kliment Zdenek | CZ |
PUPPIES (Litter A) – available in May 2006
They have a perfect pedigree and they came from first and perspective litter – both parents are multi and interchampions.
We have been keeping Kerry blue terriers for 30 years and it would be pleasure for us to help you with a care of them as well as providing you with advices and coat dressing.
We can also show the terriers on exhibition.
Katerina Hemalova
Smetanovo nam. 1527
397 01 Pisek
Czech republic
Tel: +420 776 244 881
+420 382 734 813